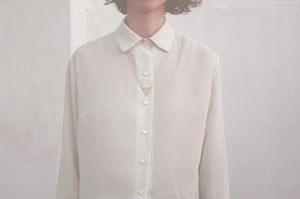 €

30.00
Brass
Piece made by hand.
Measures
Chain: 60 cm
Piece: 2'5 x 2,5 cm


This piece is not varnished,
so it may change as time goes by,
just because of the air, the humidity
or the contact with your own skin.
It's a natural and beautiful process,
but if you don't want this to happen,
just use a regular cleaning
with jewelery cleaning fluid.
_______________________
Latón
Pieza hecha a mano.
Medidas
Largo: 60 cm
Pieza: 2,5 x 2,5 cm


Se trata de una pieza sin barnizar
así que irá cambiando con el tiempo,
simplemente por la humedad, el aire,
o el contacto con tu piel.
Es parte de un proceso natural y bello,
pero si no quieres que suceda
sólo deberás limpiarla con un
limpia metales común.